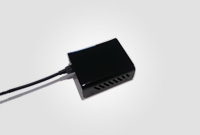 5 Relay Race Light Controller Module. 1m USB cable included.
This device controls 5 relays. Each of these relay can handle up to 250V and 5 Amp. The relay state is reflected by a LED.

This module does not need external power, but the host computer or the hub to which the module is connected must be able to provide up to 250 mA.

It can be connected directly to e-Laps via USB, or it can be connected via a PoE network hub.

A 1m USB-A to MicroB USB cable is supplied.