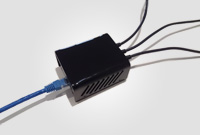 Power Over Ethernet Network Hub. Supports 3 modules.
The POE Ethernet Network Hub is a Fast-Ethernet module that can host three sensors for remote access, one of which can be fixed directly on the Network Hub's board (internally).

It can be powered either by a USB Micro-B cable, or directly from the Ethernet cable (PoE compatible with 802.3af standard).

Warning: although the 3 downstream ports use USB micro-B connectors, the controlling software uses a specific protocol simpler than USB to talk to the devices. Therefore, it is not possible to drive or power a regular USB device (or USB hub) using this Network Hub.

Micro-B to Micro-B USB cables are required to attach modules to this hub.