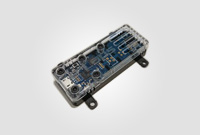 Temperature sensor module. 1m USB cable included.
This sensor measures the current air temperature.
It can be connected directly to e-Laps via USB, or it can be connected via a PoE network hub.

Temperature is measured in degrees Celcius, or degrees Farenhiet.

Temperature value can be calibrated via e-Laps.

A 1m USB-A to MicroB USB cable is supplied.